Facial Shape Rigging Automation for XSI
Some time ago I did a automated facial shape rigging solution. It's heavily based on the Face Rigging Concept of Jason Osipa, and the setup is ispired by the "Maya SuperToon Modeling And Rigging" Tutorials.
It looks pretty much like this! If wan't to try it out, download it Here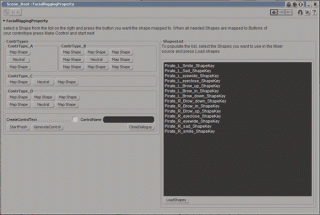 I designed it to be pretty straight forward. Select all the "shape sources "in the mixer, pic a shape and pic the button in the button layout you want to use. After you finished placing your shapes mark the options the control is supposed to have, give it a name and hit the create button.
If you have any questions suggestions or anything feel free to drop me an e-mail.